15 Nov 2019
Praxis XL - A Factory Anniversary Exhibition Review
Recently opened at The Modernist Society's premises on Port Street, Manchester, Praxis XL is an understated exhibition to celebrate the 40th anniversary of Factory's first release.
Whilst Jon Savage and Mat Bancroft's recent display at Chelsea Space (coming to Manchester in 2020) focussed on the first 50 Fac numbers and the ephemera linked to the early days, Praxis XL showcases the whole legacy of Factory.
It's been curated and designed by Trevor Johnson (a stalwart of Factory's design team) and his brother Craig. On display are 40 of the label's most familiar and sometimes interesting items from the likes of
Peter Saville
,
Central Station
,
8vo
,
Ben Kelly
as well as
Trevor
himself.
The Modernist Society is tucked away in the Northern Quarter, close to where the Buzzcocks' New Hormones office and the Roadhouse once stood, slightly off the beaten track, just a short trip up Newton Street from Piccadilly. The Society, until a few months ago had only held pop-up events and exhibitions before renting this unassuming building.
It's quite small and as you may imagine quite minimalist but perfectly formed, with the items on display allowed to breathe and not cramped.
My son and I went along on the morning of Saturday 9th November and we were surprised that we were the only 2 visitors upon arrival. However, this meant we had plenty of time to peruse and study the 40 items on display on the ground floor as well as read the accompanying notes.
For Factory fans and aficionados there are plenty of heart-warming familiar items on display, such as the original Factory Club poster, A Factory Sample, Unknown Pleasures, Blue Monday, etc.
Where this exhibition comes into its own, in my opinion at least, are the more unusual, and seldom seen items, the original rough layout for the Leigh Festival Poster, the 'Say No To London' T-Shirt design and of course Fac 191, the Haçienda Cat (a picture, not a real living cat).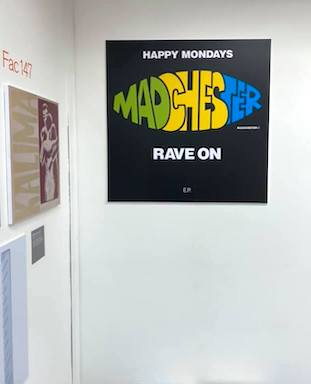 Personally, the one item I would have liked to see included, but isn't is FAC 268, Northside's 'Shall We Take A Trip' - not only for people to realise that "the one with the apple on the cover" actually has a plum, but to remind people that Happy Mondays weren't the only successful band in the final years of the label.
After exhausting the items downstairs we moved upstairs to the smaller space on the first floor (greeted on the way up by a classic cheeky image of Rob Gretton with his tongue out) where there are selected photographic works of Kevin Cummins. Most will be familiar to fans but they really come to life when blown up from the A4 size people will most be familiar with. My personal favourite is the distance shot of the Factory Club alongside one of the infamous Hulme crescents.
Whilst we were watching part of the loop of Factory-related videos, the musical pioneer that is Graham Massey arrived with a small entourage who were out on a walking tour around key locations of the city, with Graham recollecting his personal experiences and involvement in Manchester's music heritage.
I can't guarantee that you will bump into a bona fide Manchester music legend if you visit Praxis XL but I can guarantee you'll be met with a warm welcome and an exhibition that will reinforce Factory's legacy of being a key cultural force which is recognised worldwide, and not just as a record label.
- Iain Key for Cerysmatic Factory
--
Praxis XL runs from 11:00 Saturday 9 November 2019 11:00 to 17:00 Monday 23 December 23 2019.
The Modernist Society
58 Port Street
Manchester
M1 2EQ
More info:
modernist-society.org
Labels: exhibition, Iain_Key, Manchester, praxis, review, The_Modernist
- - - -